Fashion guide for female with wide hips.

There is not only a fashion guide for females, but for women having wide hips. Wide hips are a kind of zest of the figure that looks very attractive and feminine if choosing the proper clothing. Girls with wide hips, especially in combination with a narrow waist, always attract eyes and impress men. However, the clothing selection can be a hard task for them, as not every piece of clothing will emphasize the advantages of such a figure, and not make it bulky and clumsy.
What clothes girls with wide hips should wear. Deciding to refresh your closet and improve your style, girls with wide hips should remember a few simple rules for choosing the optimal models of clothing. The most important thing is that it should not visually enlarge the hips and narrow the shoulders. An outfit that will emphasize the thin waist and shapely legs will be very helpful. Let's look at specific closet items:
Pants. Jeans or straight pants are the best choices for girls with a figure of a pear shape. Tights, skinny, and other tight models should be excluded from the closet. It is necessary to refuse too wide and flared pants; they will visually add extra weight to the owner of wide hips.
Blouses and shirts. No matter what blouse model you choose, its length should be about 6 inches to hide the waistband of your skirt or pants. Blouses of a "bat" cut or options with wide sleeves, slightly increasing the shoulders and making the figure more harmonious, would look great on girls with wide hips. Also, you can choose tunics with a belt or blouses with a deep triangular neckline.
Dresses. The dress can maximize the femininity of its owner, even if she has wide hips. For such women, it is optimal to wear fitted under-the-chest dresses or tight dresses extending from the hip. It is unnecessary to choose an overly narrow dress.
Skirts. Girls with a figure of a pear shape look great in a trapeze skirt or a pencil skirt. It is necessary to pay special attention not only to the shape but also to the length. Therefore, it is preferable to refuse from the miniskirt, and the maxi skirt you can wear according to your wishes. The skirt, slightly short to the knee, would emphasize the advantages of the figure most advantageously.
Outerwear. Choosing a coat or jacket for girls with wide hips is not so difficult. Almost any outerwear with a belt effectively emphasizing the waist and feminine curves would be suitable for them.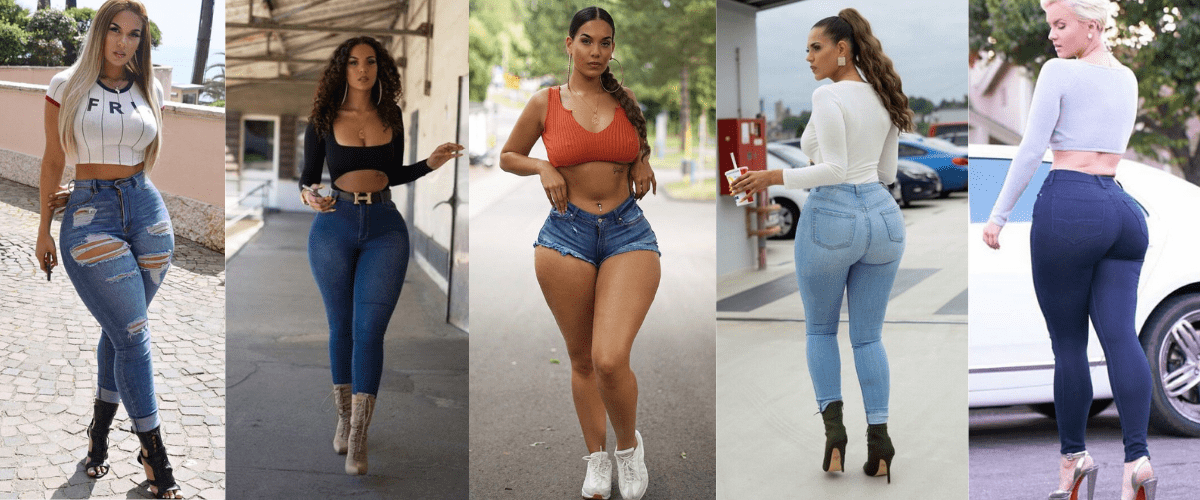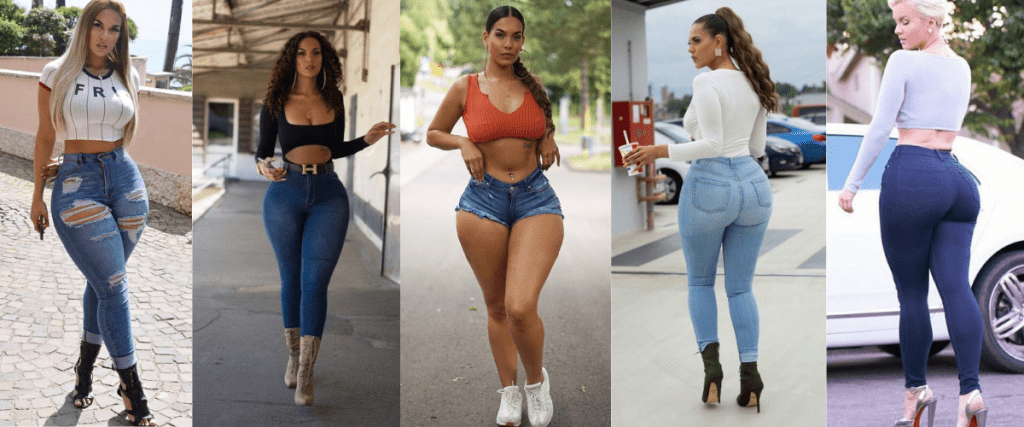 What clothes girls with wide hips should not wear.
The wide hips are not a disadvantage. Poorly chosen items in the closet can make them so. There are several strict taboos for the figure of a pear, which any girl who wants to look attractive and stylish should not violate:
There should not be any prints or decorations in the hips area, whether it be a dress, pants, or a long t-shirt. Any overly voluminous or sitting "like a second skin" outfits will attract additional attention to the wide hips, so it is better to refuse them.
Fabrics should not be bright: silk, satin, lurex, and similar mixtures of materials should be excluded (glossy leather is also in this list).
The combination "light bottom and dark top" is not acceptable, because it will emphasize the width of the hips and narrow shoulders. For the same reason, you should not get into corsets or wide belts. It is suitable for owners of a wasp waist: the more contrast, the wider the hips seem to be. A smooth and feminine curve is enough, but no more.
Patch pockets on the hips are a plus of a few extra inches to their volume. Furry and textured fabrics are better suitable for skinny girls because they add volume not obviously, but physically.
Even accessories can hurt the overall image: First, this fashion guide for female do not recommend wearing belts and belts on the hips, and second, it is better to refuse massive bracelets because when the hand is in a vertical position; they are just in the hips, visually increasing their size and attracting extra attention.
Useful recommendations for girls with wide hips.
Many modern fashion designers believe that the fashion for such a figure returns, and for this reason, the choice of clothing for girls with wide hips is becoming more increasing. Owners of puffy forms should remember that weight is not an indicator of beauty. And their figure can be advantageously and effectively presented if you use the above tips.
If wide hips do not satisfy you and you decide to lose weight, you must not forget that at first, the weight goes away from the top, so the body will seem even more contrasting. The only solution is to take classes with a professional trainer who will help improve instead of spoil your shape. Shoes with high (moderate) heels and long earrings and beads will visually "elongate" the figure and make it slimmer.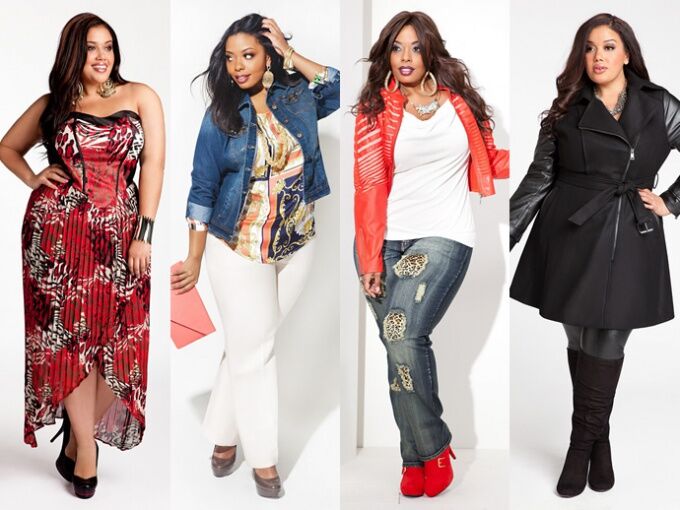 Fashion guide for miniature women.
There are many comments like this under our posts on social networks:
– beautiful, but I'm too small for this outfit
– super, but it would not suit me with my height.
– I like it very much; I need to become taller, etc.
It has become clear to us that women of a small stature often have problems when choosing clothes. The easiest way to advise them to wear high heels, but it does not suit everyone, and is not always appropriate. Let's try to help them by giving them another useful piece of advice.
We need to expand the figure visually if we have a small stature. Let's try to figure out what can help in this case.
BLACK TOTAL LOOK. It was with a small stature is shown a total look in black. The magical black, the color of bohemia, in which you will not just look stylish, but will seem visually taller.
Avoid wearing baggy and shapeless clothes. Try to create an attractive, feminine silhouette for any figure type. It can be a fitted dress if you have a well-defined waistline, for example. If you have an apple shape type, wear a dress with a cocoon shape, but with the correct length, just below the knee.
You can wear what many people can't, and that's 7/8 length pants. Shortened pants, provided that the ankle is slightly visible, visually elongate your figure. Culottes pants and banana pants, which are not the first season at the peak of popularity.
Long dresses and skirts (can be maxi) will add you a few centimeters. The most important thing is to choose the correct silhouette for you, then the length will accomplish its mission and visually "lengthen" you.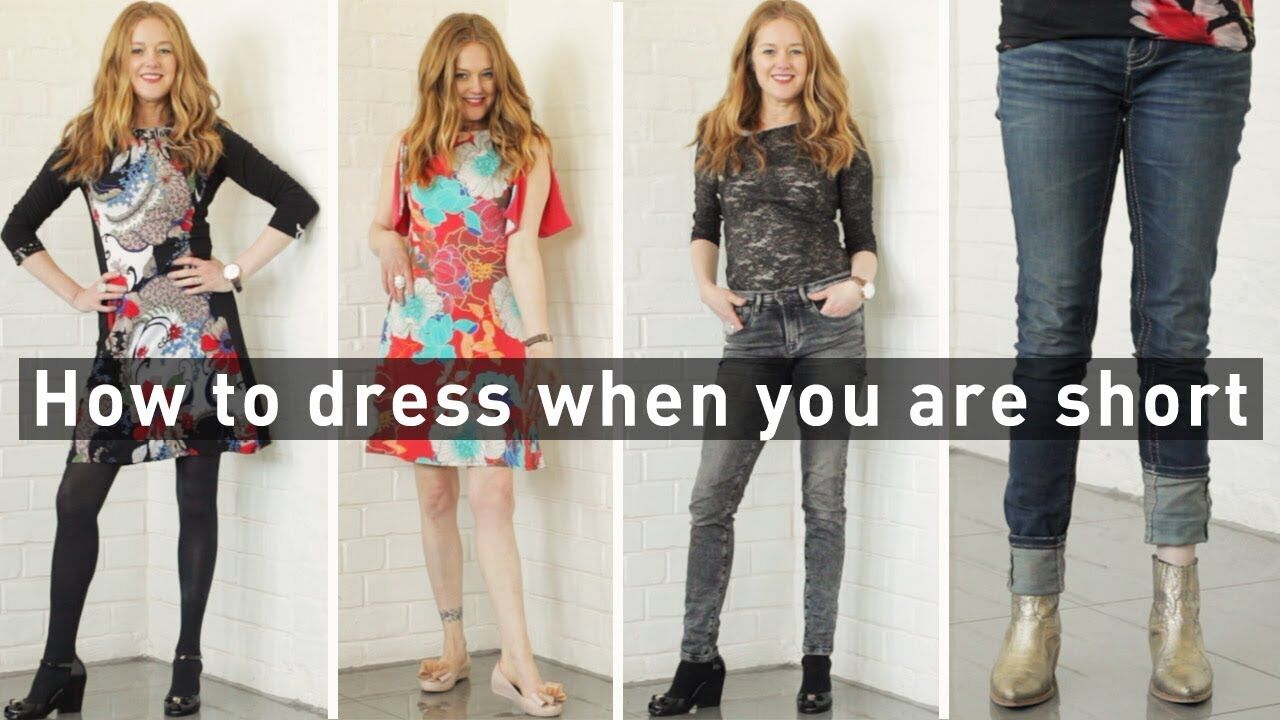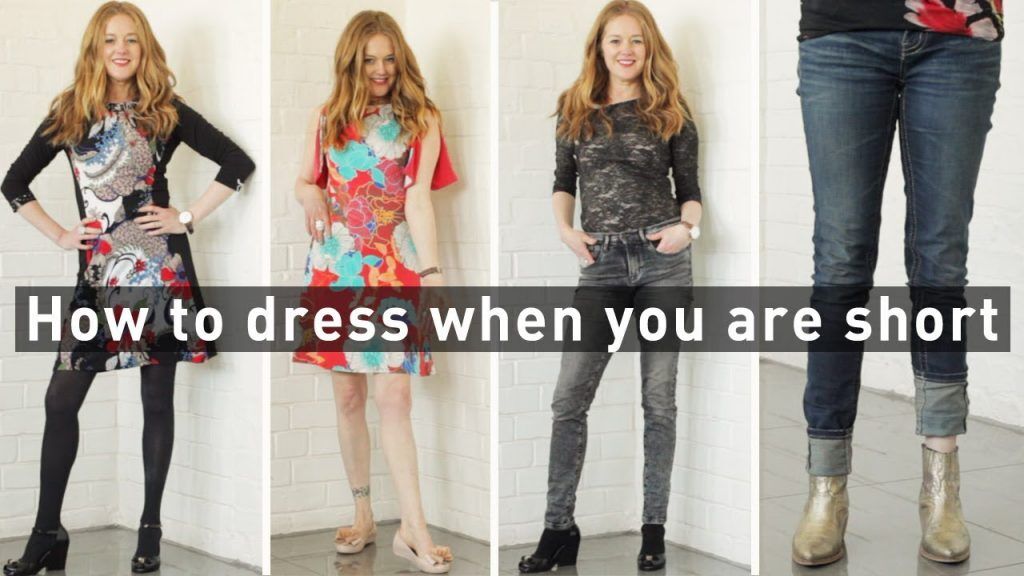 This fashion guide for female prompt us not to forget about the "golden ratio" rule. Choosing the right proportions can do a miracle by adding a few centimeters to your body. Try to find the proportions of your outfit so that it does not "cut" the silhouette below the line of your hips. In this fashion guide for female, we recommend replacing elongated jackets and coats with shorter or medium-length jackets.
Long, bulky clothes will not suit you in the case with outerwear. The maximum length is just below the knee. Choose jackets, coats of loose fit, or with an accent at the waist. A stand-up collar and lapels will suit you perfectly. Try not to overload the models with details. Such parameters will look perfect on short women.
Refrain from voluminous flounces, puffy ruffles, and tiers. All these decorations will make your figure look wider. Give preference to laconic models without extra details. The same applies to the accessories. Small bags and small jewelry will do you well.
If you like prints, then pay attention to vertical stripes. It visually elongates the figure. Small patterns will do you good, but it is better to refuse large and bright prints. It would look bulky and inappropriate on a short figure.
And remember, you cannot consider a small stature as a disadvantage. It is elegant and feminine. Look for your unique style and follow the right fashion guide for females. Examine the image considering the proportions, silhouette lines, and age, relying on your taste. The principal thing is to be in harmony with yourself and with your appearance. If you like your reflection in the mirror, it will give you a sense of your value and uniqueness.
Want this article to read in pdf later?
your Email Address